How To Write an Interview Article in 8 Simple Steps
Writing an interview article is a great way to communicate a certain concept to readers, and when done well, it ends up being a piece readers can thoroughly enjoy. The success of an interview article depends on how you plan it out, no matter the subject. The ultimate goal is to engage readers by letting the subject's personality shine, so it's important to learn how to accomplish this objective. In this article, we discuss what an interview article is, explain how to write an interview article, and provide tips you can implement to make your article captivating.
An interview article presents various points of view on a topic or a group of issues based on information gathered from one or more interviews. In the news sector, interview articles enable readers to get high-quality information on critical topics from subject-matter experts. For example, an interview essay in which you interview a historian who specializes in World War II can provide in-depth insight into this particular point in history.
A well-written interview paper addresses the reader directly and makes them feel like they are the ones doing the interviewing. As a result, it's critical to structure the interview in an intriguing manner. You should conduct an interview with a knowledgeable individual who can supply new and insightful information on the topic.
Things to keep in mind when writing an interview article
1. Choose your questions wisely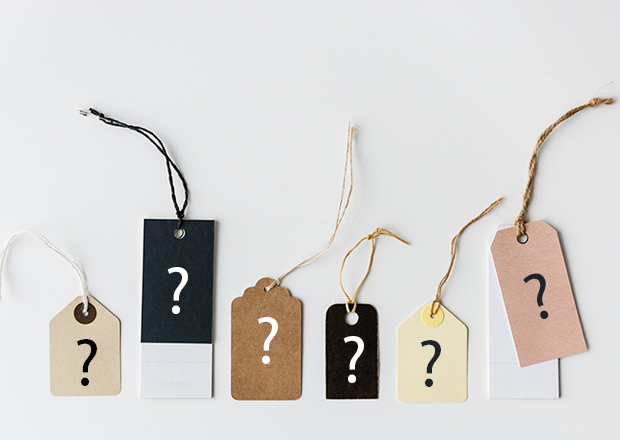 Tip: Select questions for interview that best fit your approach. Avoid typical interview questions and ask questions that are intriguing. For example, instead of asking, "How did you achieve your success in tennis?" ask, "They call you the 'next Federer' … what three qualities do you think you share with the Swiss tennis player?"
2. Structure of the article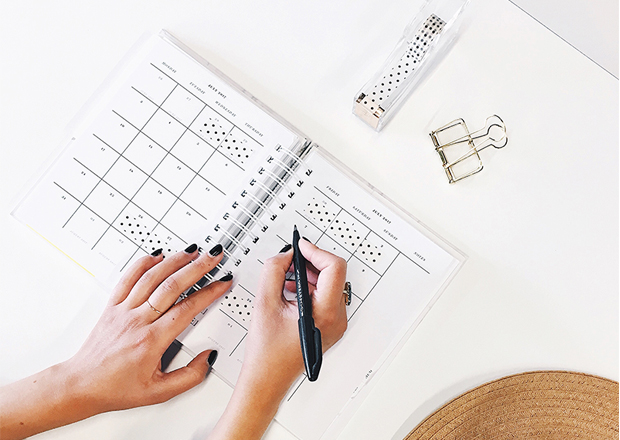 Once you have narrowed down the questions you wish to address and have conducted the interview (here you can find a comprehensive guide on how to interview someone for an article), the next step is to actually write the article. Here is where you have endless options and can get your creative juices to flow in terms of how you wish to structure the article. If there isn't a specific code you need to follow, I would say that these days there isn't one winning rule. Most writers feel the need to post the picture, questions and answers in a logical sequence. Which is not bad, but then again chances are this makes for a rather boring interview article.
Also, make sure you have a strong start and ending as these are the pillars of your structure. Choose the most provocative questions and answers to be featured at the beginning and at the end so that this way you keep the interest of the reader from start to finish. Moreover, you can insert some of the main answers as quotes to break the article and make it less boring.
Another thing to keep in mind is that the actual interview might be full of half sentences, unspoken words or sudden changes of topic. To make the interview readable, you'll have to rephrase most sentences. And when it comes to rephrasing, there's a simple rule of thumb:
Nonetheless, try and make it attractive. Starting from the title and ending with the last answer, always keep in mind this: "How can I put things so that it's appealing for the reader?" Look for the most interesting stuff and reorder the questions of the interview if needed so that you give readers the feeling that they have just read the story of a conversation and not a cold sharp interview. Add suggestive photos, insert quotes and let your emotions guide you. Remember, you're in complete control at this point!
Tip: Try to give the interview article some sort of narrative or structure, without making it too linear and logical. In the end, just ask yourself if it's something you'd enjoy reading.
3. Magazine article interview examples to get inspired from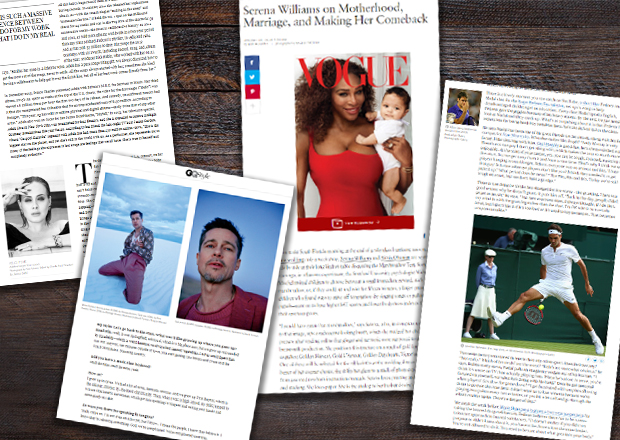 Finding it hard to be creative? Don't worry, we've all been there. Luckily, if you're stuck in a rut, there are plenty of magazine interview article examples on the Internet to draw inspiration from. I've selected a few of the ones that I have enjoyed reading, and remember, even if you're probably never going to interview Adele or Brad Pitt, articles like this can plant an idea in your mind or awaken your creative buds. It can be anything from the title, the layout of the interview article, to the questions, the perspective from which it is written and so on.
Serena Williams' interview for Vogue, as well as Adele's one for Vanity Fair are some impressive articles that somehow manage to bring these big stars closer to the public by sharing some candid moments and information with the readers. Brad Pitt's interview for GQ magazine is rather an interesting one since it's a roller coaster of perspectives, questions, emotions and quite artistic pictures that altogether reveal a different side of the actor.

However, if these interview articles are a bit too much, on our blog you can find some interviews to start with, like this one with Debbie Millman or this one featuring Jacob Cass. You're really just one click away from a plethora of interview articles.
Writing an interview article can be quite challenging and overwhelming at times, but as long as you keep in mind the above-mentioned tips, you should be on a good path. And remember, there isn't a one rule applies to all. You can make it as fun or as serious as you want. Just ask yourself at the end if it's something you'd really enjoy reading.
Cut and Paste
Use your word processing program's cut-and-paste function to pull the interviewee's quotes about each topic into the appropriate subhead area. Of course, this is easiest if you transcribed the interview recording yourself, but plenty of software programs out there let you scan and edit a transcript typed by someone else if you didn't receive it in a word processor file.
Now you're pulling the subject's words out of the chronological order in which he spoke them, but that's OK. In fact, it's ideal. You're not just rewriting what he said. You're writing a profile.
It's not necessary to pull whole paragraphs. At this point, you'll have a feeling for the direction that your article is taking. Get the best quotes sorted and just leave the rest for future reference.
Source:
https://ca.indeed.com/career-advice/interviewing/how-to-write-an-interview-article
https://blog.flipsnack.com/how-write-interview-article-for-magazine/
https://www.thebalancesmb.com/how-to-write-a-profile-or-interview-based-article-1360733