Why is it important to write a speaker biography for a conference?
Give a good impression – Not only giving a good impression of the audience, but also giving a good impression for the event organizer or the event planner. It will make things easier in promoting the speakers in the brochure, website, or other types of advertisement. Make sure you make your template in biography template pdf format.
Gain more attention – By writing a speaker bio, you can attract more audience. Before attending a conference event, people will tend to look of the information of the speakers, whether the speakers are credible or not. Therefore, by mentioning your conference speaker bio, you will let people see the ability and capability of you in delivering speeches and materials.
Gain the right audience – By writing a motivational speaker bio or conference speaker bio obviously will highlight the main point of the event, especially the theme and material will be discussed in the event itself. Hence, it will attract the right audience with the same background of interest.
Make sure you have relevant information
Writing your biography is the most important part to introduce you properly to the audience. Therefore, you have to make it right and relevant with the theme of the event. You may have many abilities in various field, but mentioning them all in your biography is such a wasting of time.
Write only the experiences and achievements that relate to the topic and theme given by the event. For example you are the speaker of a cybercrime themed conference, just put your experiences and achievements resonating with the topic mentioned.
Make it brief and informative
A conference speaker bio and a motivational speaker bio must be wrapped and delivered in short format to make it easier to be understood by the audience. Three to six sentences can be the right length of your writing around 75 – 100 words.
By mentioning those aspects in your speaker bio template, you will draw enough information for your audience that highly get the chance to be read. Make the best short bio example yourself will love after reading it.
Wrap it in the right format
Writing the text-content of your speaker bio information is a must, but you can't neglect the fact that you have to wrap your content in a creative way. Then, How? You can write your creative bio examples through Canva or Photoshop that will provide you with many theme and color options.
According to a survey, a content or a post that inserts images will gain 650% higher chance to get engagement rather than a post who only mention text content. Therefore, adding image of yours is such a great idea.
After reading the information above, you might wonder "how can i write sample of biography about myself?" Don't worry, let's o see what the speaker bio examples or guest speaker bio examples look like in this section below.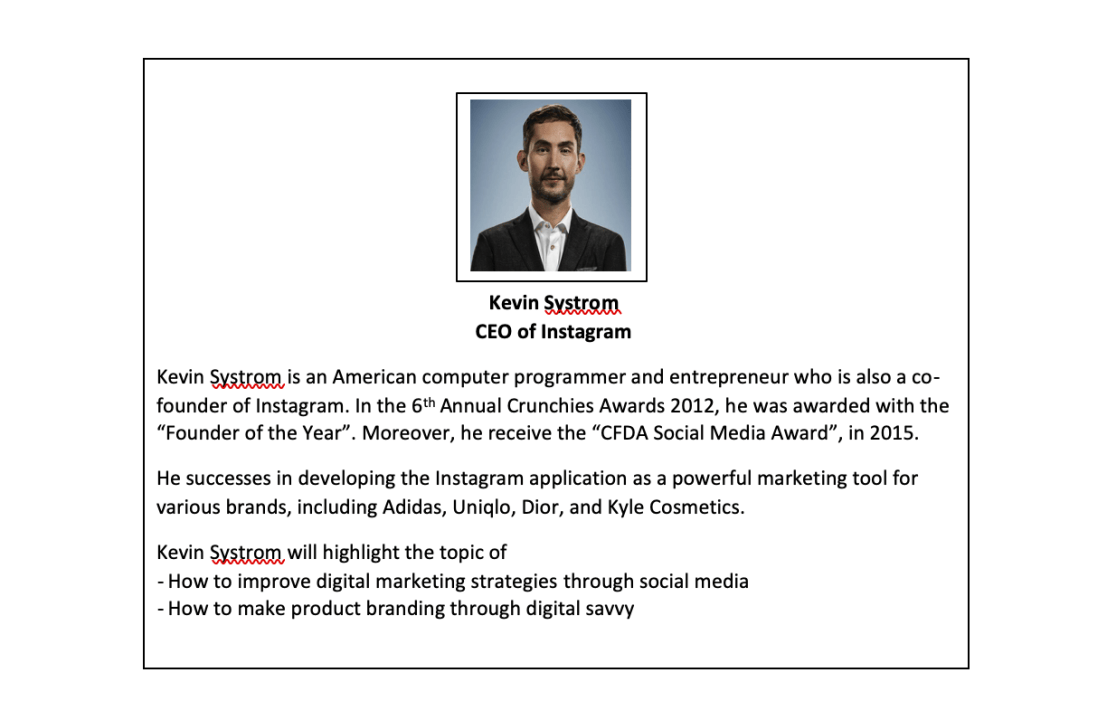 Kevin Systrom is an American computer programmer and entrepreneur who is also a co-founder of Instagram. In the 6 th Annual Crunchies Awards 2012, he was awarded with the "Founder of the Year". Moreover, he receive the "CFDA Social Media Award", in 2015.

He successes in developing the Instagram application as a powerful marketing tool for various brands, including Adidas, Uniqlo, Dior, and Kyle Cosmetics.

Kevin Systrom will highlight the topic of
– How to improve digital marketing strategies through social media
– How to make product branding through digital savvy
Jason Harris is a motivational speaker and a certificated character coach. He is also a decorated combat veteran who value dedication and service of people.

With his dedication, hard work, and determination, he left his poor life and reach his dream in Air Force Academy. He finally made it to an accomplished military career as Lieutenant Colonel in the Air Force Reserve as a Joint Mobility Planner at the North American Aerospace Defense Command (NORAD) and the U.S. Northern Command

Through his inspiring story, he now becomes a great motivational speaker who has the passion to share knowledge and empower people to achieve greater success.

How to make your personal bio noticeable

Just writing a personal bio is not enough; you need to ensure that it is able to reach the right people and has the power to appeal to them. You can refer to various short personal bio examples to find out ways in which you can make the bio more interesting and noticeable. Here are a few features that will make your bio catch the attention of its readers-

Add a link to your work- Adding a link to your portfolio or any other achievement present online will add credibility to your bio. Don't overstuff the bio with links. Keep only the most relevant ones. You can use anchor words or a call to action to promote yourself. Also, ensure that you add your contact information at the end.
Add tasteful humor- You can choose to add a funny anecdote to make your bio quirky as long as it is inoffensive and maintains a professional tone. Go through some fun personal bio examples for your reference.
Incorporate SEO- You need to optimize your bio for online searches. Some SEO strategies that will help your bio stand out from your competitors are-

Make sure the piece is of the right length and has original content.
Use the third person for writing a short bio.
Research for the best industry keywords and try using them in your content.
Adding external links to your social media handles or work portfolio will also be helpful.
You can also add a professional photo to your bio if required.
Pay attention to all online channels- You have to ensure that all your websites, social media platforms, etc., are professional. Make sure that no incorrect information comes up when your name is searched. All the platforms should have a consistent and professional tone.

Components of a personal bio

Will Roberts brings together online brands to the right target audience and provides the perfect marketing experience. A graduate from the University of California, Roberts believes that the perfect balance of classical marketing strategies and modern techniques yield the best results. Will recently participated in a research study that analyzed the trends of customer conversion in the online marketplace. He aspires to work in a leading digital marketing company in the future.

Kelly Wilson believes that motivated children are the future of this world. She has been teaching at the Edinson Public School for the past 19 years. She has spent years teaching children of all grades and finds extreme joy in sharing stories and listening to little anecdotes from her students' lives. She majored in English at the University of Virginia and was awarded her National Board Certification in 2004. Kelly has also completed her Master of Education degree and aspires to continue sharing her knowledge and stories with her dear students.

Ryan Davis is a Brand and Marketing Strategist who works towards the upliftment of several personal and professional brands. Ryan holds a Bachelor's degree in communication from the University of Texas. He understands that the only way a brand can succeed is by truly connecting with the people. Ryan has worked with esteemed companies such as CNN and Edelman. The extensive PR and marketing experience that Ryan possesses makes him a highly known name in the industry. Ryan is also a certified business coach who likes to spend his Time telling people about business basics.

Joe Tucker published his first book ' Time,' when he was 20. He has since then been involved in writing columns for various newspapers and magazines. Joe graduated from Columbia University and took up writing as a career to be able to bring the world together with the power of his words. He is currently working on a non-fiction novel that speaks about his life experiences. His works have been critically acclaimed, and he was awarded the National Prize for Arts in the year 2019.

For over 15 years, Mark Riley has been working as a management consultant for various firms. He has years of experience in both the public and private sectors and has led several highly esteemed companies such as ABC and CYZ technologies. Mark holds an MBA from the University of Delaware and is skilled in team building, strategic planning, and company collaboration.

Amy Howard is an Office Administrator with nine years of experience. She specializes in administrative technology and is responsible for educating the employees on how to use various systems and applications, including accounting software, mass communication procedures, and other organizational apps. Amy has a magnetic presence in the workplace and uses her positive attitude and energy to encourage others to work tirelessly towards success. Amy is inspired daily by her husband and their two sons. In her free Time, Mary likes to read, travel, and spend her time volunteering.

Resource:

https://www.virtualedge.org/how-to-write-a-speaker-biography-for-a-conference/
https://www.interviewkickstart.com/career-advice/how-to-write-a-personal-bio